Back To Our Services
Most garage door openers are electric powered. There is a motor in the opener box which is installed on the ceiling, and is connected to electric power and the opener parts through wires. When the button of your remote control is pressed, the motor is transferring power to the trolley through the drive guide and the power is eventually passed to the arm connecting the carriage to the door. This is how the door opens automatically. Many modern openers also work with backup batteries, which enable automatic operation in a power outage. The battery should be charged at all times and the opener requires good care so that the system will work right and provide the expected safety and security.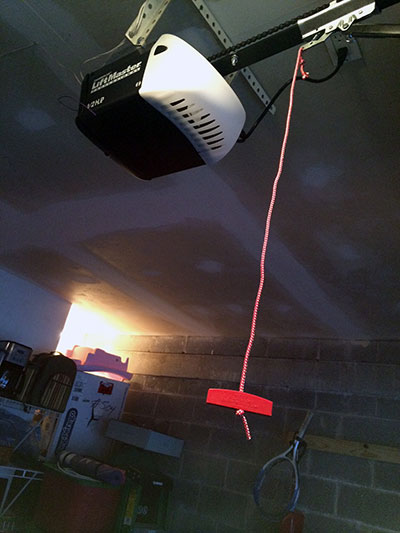 Motor horsepower
This indicates the power of garage door motors. The opener must have adequate power to initiate the door's movement. So, the weight of the door plays a great role in the selection of the opener. The motor's horsepower must be sufficient for a specific door's weight. Average size and weight residential doors usually require ½ hp motors. If they are heavy, you might need to get ¾ hp or 1hp.
Transmitter and receiver
Your overhead door opens and closes when the clicker is pressed. Every time you click the button, the remote sends signals to the opener. That makes the remote the transmitter and the opener the receiver. There are two kinds of transmitters.
The first one is the regular garage door clicker. Today, most of them have two or three buttons so that they can operate more than one opener. Each button is programmed to work with a particular opener.
The second one is the keypad. It is mounted right next to the door and requires a four digit code in order to open the door. Modern transmitters and receivers work with rolling code technologies. So, every time you click to open a different code-signal is sent from the transmitter to the receiver, and that increases security.
Garage door trolley
This is also known as carriage. It is connected with the rail along which the chain or belt drive runs and also to the door through an arm. When the motor transfers power through the drive guide, the trolley sends this power to the arm which pulls the door to open or pushes it to close it down.
Opener maintenance in Kenneth City
From motors and trolleys to the remote, sensors and gears, all parts of the opener system require proper maintenance. This involves lubricating the gear system and the chain, tightening fasteners, aligning the photo eyes, testing the door's travel limit and force, and making the necessary adjustments. If you need any assistance with such tasks, Garage Door Repair Kenneth City can help you. We offer opener maintenance, replace the worn parts, fix the reverse system and offer emergency garage door repair.
Send us a message if you need any services.
Back To Our Services